Skimbleshanks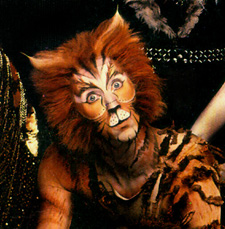 Skimbleshanks is the Railway Cat of the Sleeping Car Express. He is well-organized and not a thing goes wrong on the Midnight Mail.
" . . . You could play no pranks with Skimbleshanks. He's a cat that couldn't be ignored so nothing went wrong on the Northen Mail when Skimbleshanks was aboard . . ."
To the other cats, he's a friendly uncle with orangish fur. During his song, the other cats help him put together a train out of debris.







Back to The World of Jellicle








The song you're listening to is the theme from Cats.
All images, lyrics, and sounds on these pages are © The Really Useful Group.