Mr. Mistoffelees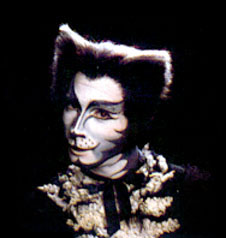 Mr. Mistoffelees is the Original Conjuring Cat with his own Conjuring Turn with magical powers.

" . . . He is quiet, he is small, he is black from the ear to the tip of his tail. He can creep through the tiniest crack. He can walk on the narrowest rail . . ."

He sings in many songs including The Invitation to the Jellicle Ball, Mungojerrie and Rumpleteazer, and of course, Mr. Mistoffelees.







Back to The World of Jellicle








The song you're listening to is the theme from Cats.
All images, lyrics, and sounds on these pages are © The Really Useful Group.